Do you want to show you're a man? Shoot somebody.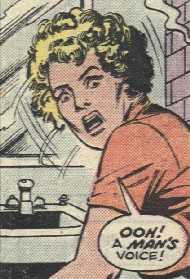 In a new book,
The Wimp Factor: Gender Gender Gaps, Holy Wars and the Politics of Anxious Masculinity
, author Stephen Ducat contends that the Republican's success can be attributed to "femiphobia," or "fear of all things feminine."
From the
San Francisco Chronicle
review:
"
The Wimp Factor
suggests that American hyper-masculinity -- as seen in, but not limited to, the Bush administration, Christian fundamentalism and right-wing U.S. policy -- has created a contentious political landscape in which more and more men are becoming conservative. Ducat said that men with the extreme type of masculinity that is afraid of characteristics traditionally considered feminine -- self-reflection, attunement to others, appreciation for human interrelatedness -- may become sociopaths: possessed of a guilt-free capacity to hurt others for personal gain.
'The Bush administration is the most sociopathic American administration in my lifetime,' [Ducat] said, citing the administration's unilateral assault on Iraq and, leading up to it, apparent falsehoods about weapons of mass destruction and Iraqi ties to al Qaeda."